Design Proposition
This brings the following variations to the original option:
It brings the amenity open space to sit between the two main development block areas-creating an integrated commercial block to the north;
the northern block is now terminated by a new Community use - a commercial creche / nursery, with a new high quality play space alongside;
the southern block is now composed of a variety of new and affordable 'residential units'- comprising starter and family homes, retirement/assisted living blocks and a care home facility.
Image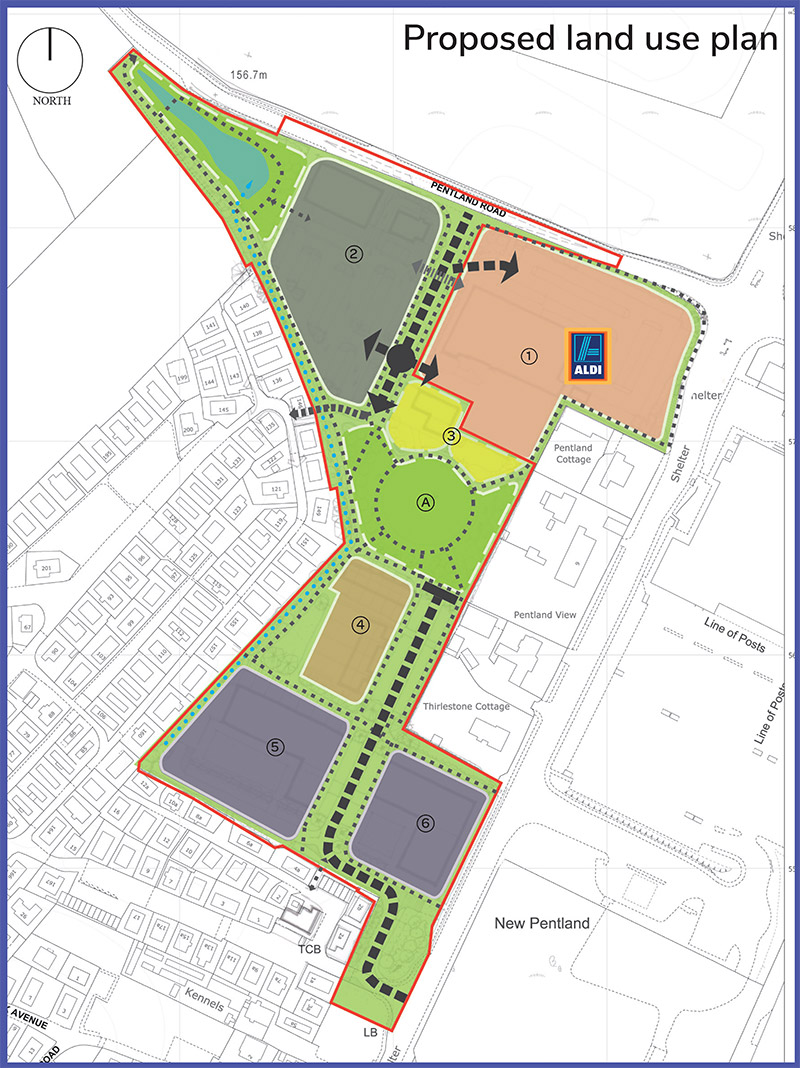 Proposed primary access routes


Proposed SUDS drainage channel (leading to SUDS basin)

Development block 1: Food retail use (ALDI Food Store)

Development block 2: Mixed commercial uses (family restaurant, drive-through coffee outlet, or a vetinerary surgery / hospital)

Community Block 3 - Community uses (nursery/creche/play area)

Development Block 4 - Residential (affordable housing)

Development Block 5 - Residential (assisted living/retirement housing)

Development Block 6 - Residential (housing for the elderly)

Green Infrastructure and Amenity Open Space
Image

Image

Primary Access off Pentland Road - new right hand turn lane, widened site entry with 2 lane exit onto Pentland Road.

Southern Access - leading to development plots in south sector.

Primary Street accessing development plots in northern sector.

Development block - Committed ALDI Food Store. Does not form part of this PoAN process.

Food Store - rear access and service area.

Shared access roundabout - into development blocks and rear service area.

Drive thru Coffee unit - at 140m2 GFA - with 34 dedicated spaces (45 if shared with Pub allocation) and 3 disabled spaces.

Pub/Restaurant - 700m2 GFA - with approximately 50 car spaces (7 disabled) and outdoor dining area.

Potential Affordable Residential Units - starter unit block - 6 units (2 storey - 2 beds).

Potential Affordable Residential Units - family block - 4 units (2/3 storey with mix of 3 and 4 beds) - Sharing 40 car parking spaces with family Block and care home.

Potential development Block - 3 storey - Residential assisted living and retirement units, (with 30 parking spaces).

Potential development Block - Homes for the elderly - 2/3 storeys - as separate building (40 beds with - 16 parking spaces - plus some shared with residential area to north).

Potential Community Use Block: Flexible built spaces (300m2) - as a creche/nursery with attached garden.

New play area provision - A Local Area for Play (LAP) conforming with the affordable housing requirements for play and generally good use of space in this location.
Amenity Open Space - Public Green Space with seating and lighting.


Sustainable Urban Drainage System (SuDS) - Pond / Attenuation Basin.

SuDS feeder drainage using open ditches/swales, with landscape buffer planting.

Emergency access to Residential Village - new orientation - via old Plot no 146.

Sculpture feature (public art).